Temperature Measurement Solution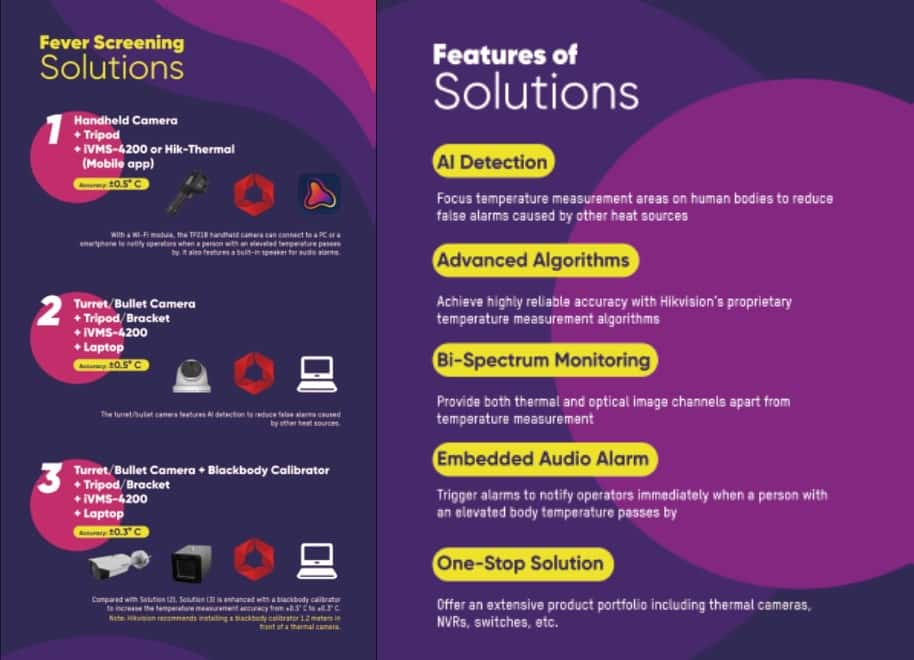 With advanced detectors and algorithms, Hikvision's Temperature Screening Thermographic Cameras are designed to detect elevated skin-surface temperatures, and can thus be used for rapid and preliminary temperature screening in office buildings, factories, stations, airports and other public places, with accuracy up to ±0.3°C.
One second to detect skin-surface temperature of a person
Multi-person detection simultaneously
Non-contact measurement to avoid physical contact
Immediately alarming to notify operators
AI detection to reduce false alarms from other heat sources
PC Solutions offers a one stop shop for all your surveillance needs. Choose from a wide portfolio of products, including analog & IP cameras, body worn solutions, covert cameras, time & attendance solutions, home automation solutions, video door phones, and related accessories.









WHY YOU CAN COUNT ON US
At Security Solutions, Inc. we have been protecting homes and businesses for over 10 years since 2009. As we have grown to be the trusted provider of residential and business security, we have maintained the nature of a local company, treating every client as if they were our only client.
The value we provide sets us apart from all other security providers:
Remote monitoring is available,
Get in-house design and engineering staff for custom projects
We offer wired and wireless systems and can monitor most existing systems.